Blog : Redhook Brewery and WXGR Present Hookfest 2014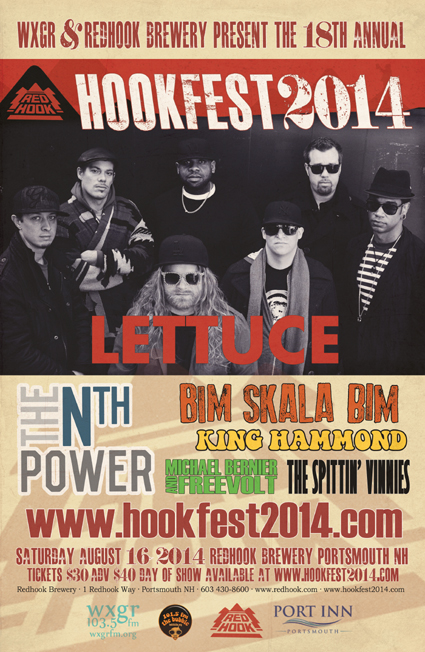 Green Alliance Community get 25% off Hookfest tickets with promo code 'Green'! (exp. 8/1)
Redhook Brewery and WXGR's 18th annual Hookfest 2014 is right around the corner! The all-day outdoor music and beer festival takes place on August 16 and promises a day of great music, delicious beer & food and plenty of good times. Just last week, redhook and WXGR announced the full musical lineup, featuring a fantastic lineup of national touring artists and local bands.
Brooklyn's finest seven-piece old school funk band Lettuce will headline the festival. Lettuce has toured venues and festivals the country for the past year, from The Fillmore in California to Terminal 5 in New York City. Lettuce celebrated their 20th anniversary this year by releasing their third studio album, Fly.
Along with Lettuce, the lineup also includes Bim Skala Bim, a ska rock band from Boston, MA, ska musician and producer King Hammond, soul band The Nth Power, Massachusetts-based Americana roots reggae band Michael Bernier & Freevolt, and The Spittin' Vinnies, performing originals and a wide span of covers.
Sound good? It is. Head to Hookfest's website, where you can look at a number of different ticket options, ranging from general admission tickets to swanky VIP packages, including hotel and transportation. Psst, here's a hint though: get 25% off your ticket purchase when you use the promo code 'GREEN.'
Want to live like a king for a day? Hookfest is offering the "Good Life VIP Experience." This ticket gives the holder premium viewing areas and access to the "Good Life Lounge", an air-conditioned lounge that includes food, seating and a private bar. VIP tickets also grant access to air-conditioned bathrooms, happy hour, private entry & check in and a VIP lanyard & goodie bag. To learn more about the VIP Good Life Experience click here!
For more information about directions & transportation, suggested things to bring to the festival and things that should be left at home please visit the Hookfest 2014's info page.

And as always, don't forget about the great discounts that Green Alliance members get with Redhook and WXGR:
WXGR - Green Card holders receive exclusive access to monthly prizes, including ski passes, museum passes, movie passes, local concert tickets, and VIP access to station events! Also, Green Alliance Business Partners save 20% on underwriting rates!
Redhook - Green Card holders recieve 10% off all food!
Green Alliance Community receives 25% off Hookfest tickets with promo code 'GREEN'! (exp. 8/1)